SECOM News

Jun. 8, 2022
HISTORY AND DEVELOPMENT OF SECOM
SECOM Group
Being Japan's first security company, SECOM was established in July 1962 (the 37th year of Showa). The company name at that time was Nihon Keibi Hosho (Japan Security Company). At the beginning, the company started with patrol security services and resident security services. The honoring responsibility of protecting the athletes' village at the 1964 Tokyo Olympic Games (the 39th year of Showa) was a push bringing the Japanese Security Company to a new level. SECOM was the first company in the country to deploy an online security system for enterprises in 1966 (the 41st year of Showa). After that, the company has expanded branches nationwide while developing a network of service providers for enterprises.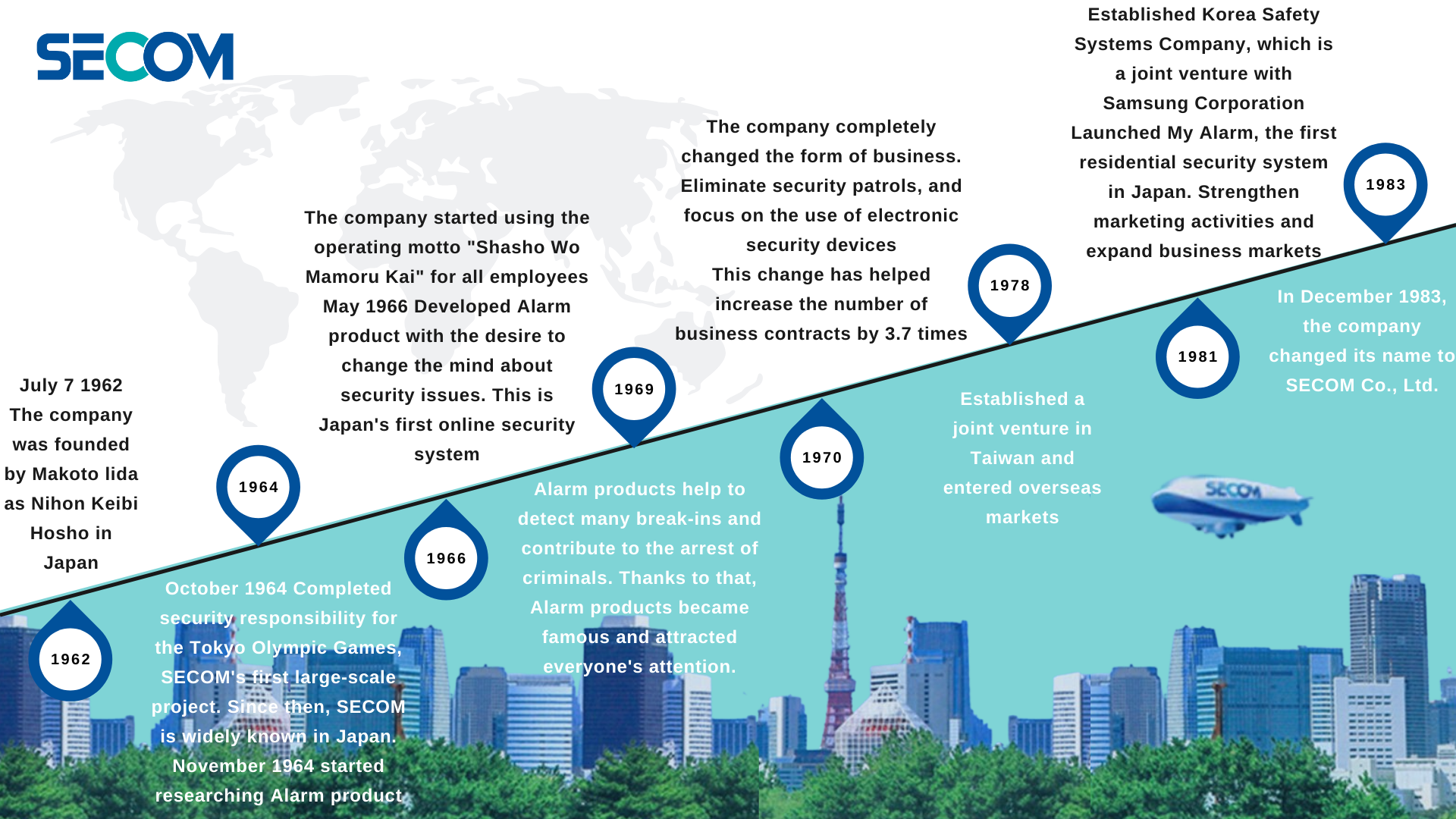 SECOM Productions
Our business portfolio today comprises security services, fire protection services, medical services, insurance services, geographic information services, real estate development and sales, and information communication-related and other services. In these businesses, we strive not only to provide individual products and services but also to combine them into distinctive packages, in line with our overarching mission, which is to provide safety and security for people whenever and wherever necessary.
Global Network
Intending to maximize Group synergies to expand the scope of its operations, SECOM continues to promote the " All SECOM" concept, which focuses on rallying Group strengths to create uniquely SECOM systems and services that enhance convenience and comfort and deliver security and peace of mind, thereby ensuring that SECOM remains an ever-present and trusted part of life for customer everywhere.
SECOM  has expanded into 17 countries and territories outside of Japan inclusive of Asian countries such as Thailand, Malaysia, Singapore, Indonesia, China, Taiwan, Australia, Myanmar, and Vietnam, providing security services, fire protection services, medical services, and geographic information services customized to reflect local needs and sensibilities. SECOM continues working to further strengthen and grow its overseas operations.