SECOM News

May. 24, 2022
GREETING MESSAGE FROM GENERAL DIRECTOR, SECOM VIETNAM
Dear customers
I'm Satoru Awano, General Director of SECOM VIETNAM SECURITY SERVICE JSC.
First of all, I would like to express our utmost gratitude to you for your continued support.
As you can see from this WEBSITE, we are offering not only a conventional service of supplying security guards, but also an international standard alarm monitoring service that combines cutting-edge technology with well-trained staff.
We have a 24/7 central monitoring system (control center) for alarm signals in Vietnam, and we monitor a large number of subscribers day and night, mainly in major cities and their surrounding provinces. One of the features of our service is dispatching security guards to the monitored site when an abnormal signal is received. We have 17 dispatching stations nationwide, and the range of dispatch is expanding as the number of contracts increases.
Last year, the year 2021, the Vietnamese economy suffered a significant damage due to the COVID19 pandemic. The restriction to people's freedom of mobility made our service extremely difficult. However, in the midst of such difficulties, we have made a firm resolution. It's about providing our services, which ensure maximum safety even when people aren't there, more safely, easier to use, and with more reasonable price. Because of the corona crisis, Vietnamese society has become sensitive to the risks of contact with people and the burden of labor costs. We thought that we could provide more proactive solutions to these problems by polishing our strength: combination of reliable technology and well-trained staff.
This year, this idea was realized as a new service. That is "SECOM PLUS". In contrast to the conventional service that remotely monitors only electrical signals, the new service has the following features. By connecting our alarm system to the customer's own/or newly installed surveillance camera system (CCTV), immediately after detecting an abnormality with our alarm sensor, the images caught by the CCTV will be sent to our Control Center and to the customer's mobile phone via the designated mobile app simultaneously. You can cope with abnormal situations by communicating with our staff in the Control Center. It is also possible to remotely play a pre-recorded warning message on the monitored site to repel intruders.
For customers, it will lead to effective use of existing surveillance cameras, improvement of safety in their unmanned facilities, and for our company, it will lead to better recognition of the situation at the site and effective actions of dispatched security guards. It is a WIN-WIN service.
In addition to those, we will utilize our 50 years of experience in Japan and 3 million contracts worldwide to develop unparalleled security services here in Vietnam and contribute more and more to the safety of Vietnamese society. We hope that more people will experience the services of SECOM to have real peace of mind.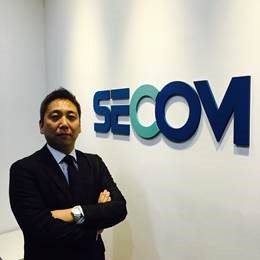 Mr. Satoru Awano
General Director